Public Sector Technology Exchange
The Public Sector Technology Exchange (PSTE) is an independent forum that discusses the technology challenges impacting government, industry, and education.
PSTE events feature an interview-style discussion with today's technology leaders in the public sector marketplace.
Consulting
Decades of experience in selling and marketing technology solutions to the public sector marketplaces, James Baker can assist your company in winning new business in the federal, state, and local government and education marketplaces.
Baker's book "How to Win Business from the Federal Government-Revised Edition" is a must read for anyone in the public sector marketplace.
Restorative Justice
Baker's book "Freedom Shift" is designed to send a message of hope to youth about how the promises and power of God can change their life. There is a battle for the hearts and minds of youth everywhere. Freedom Shift was written for young people that are in jail. Spending time in jail has profound impact on youth. There are many studies that show that 1/3 of all wards in detention facilities will return.
Baker volunteers his time working with incarcerated youths as well as partnering with organizations focused on restorative justice.
Freedom Shift
Based on Baker's work as a chaplain in the youth detention facility, Freedom Shift is a must read book for all high school students, teens in jail, and community leaders that works with youth. This book provides guidance on how to restore peace in your life no matter the circumstances that life has thrown your way.
How to win business from the government
Baker's book as been herald from the DC Beltway to all over the country as one of the best tactical books on how to research and create a winning strategy for the U.S. Federal IT Marketplace. This book is a must read for any technology company doing business with the federal government.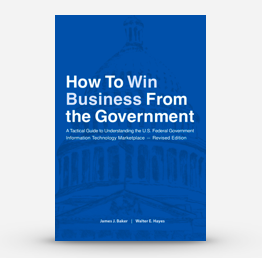 how to win business from the government-revised edition
"How to Win Business from the Government - Revised Edition" is an update to Baker's classic book published in 2009. This book is currently used by George Mason University to teach a 300 level course on federal marketing. The revised edition adds greater insight into the ever-changing world of federal sales, business development, and marketing.